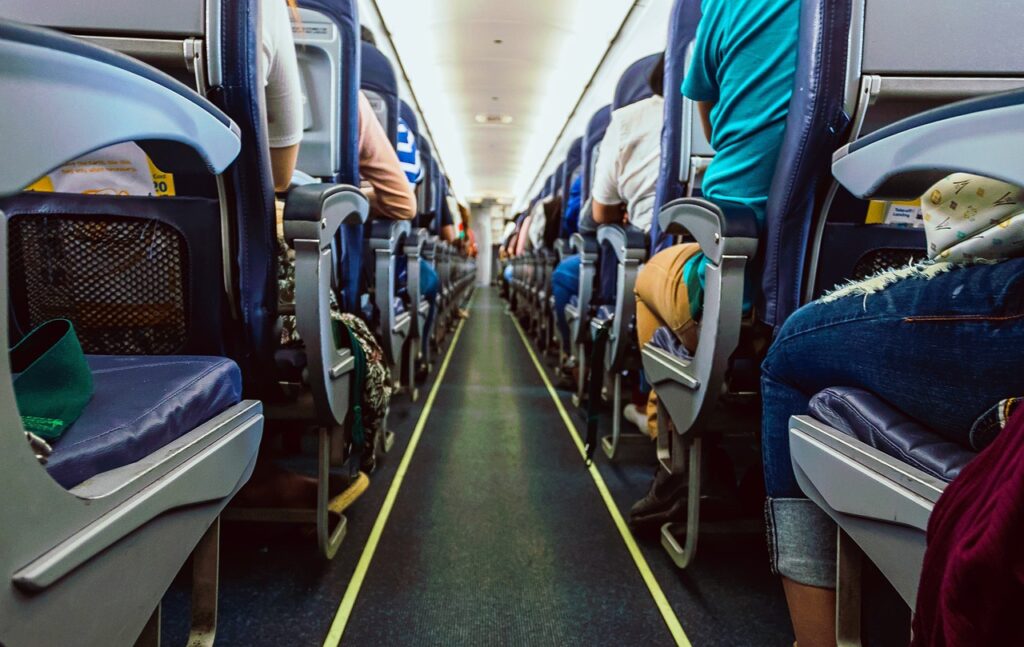 10 Travel Products for a More Comfortable Flight
Step into a world of travel transformation, where cramped airplane cabins and loud noises are no match for the power of innovative travel accessories! Explore a carefully curated collection of products designed to turn your in-flight experience from chaos to a comfortable flight. Embrace the plushness of travel blankets, the support of travel pillows, the serenity of noise-canceling headphones, and the bliss of eye masks. With ingenious inflatable footrests to soothe tired legs, you'll find yourself cocooned in a sanctuary of tranquility. Say goodbye to the stresses of flying and welcome the joy of relaxation, as these top-rated essentials create a haven amidst the noise and space constraints.
---
Travel Pillows
We all know how essential it is to catch some rest during long-haul flights. Yet, finding a comfortable sleeping position while seated can feel like an elusive quest. Travel pillows are essential in trying to get some shut-eye. These trusty companions are designed to cradle your head and neck, providing much-needed support and helping you doze off in blissful comfort.
In this section, we'll highlight two of the best travel pillows available on Amazon, each offering a unique blend of innovation and coziness.
---
The Trtl Pillow is a revolutionary travel companion that has redefined the concept of neck support during flights. Unlike traditional U-shaped travel pillows, the Trtl Pillow boasts a fresh approach. Its scientifically proven ergonomic design wraps around the neck, resembling a cozy scarf, and uses a hidden internal support system to keep the head in an optimal position during rest. This ingenious structure not only ensures that your neck stays in alignment but also prevents the dreaded head-bobbing and discomfort associated with long journeys.
Crafted from super-soft fleece, the Trtl Pillow offers a plush and velvety feel against the skin, adding an extra layer of coziness to your in-flight experience. It's also lightweight and easily packs into your carry-on or travel bag, making it a portable solution for comfort on the go.
The Trtl Pillow has garnered extensive praise for its effectiveness in promoting better sleep during flights. Many travelers have reported arriving at their destinations feeling more refreshed and energized, thanks to the improved quality of rest achieved with this innovative pillow.
The Cabeau Evolution S3 Travel Neck Pillow is a luxurious memory foam travel pillow that sets the bar high when it comes to providing exceptional neck support during flights. Crafted from high-quality memory foam, the Evolution S3 molds perfectly to the contours of your neck and shoulders, cradling your head in a cloud-like embrace. The memory foam not only offers unparalleled support but also retains its shape, ensuring reliable performance throughout your journey. It's like having a personal ergonomic pillow tailor-made for you.
One standout feature of the Cabeau Evolution S3 is the innovative Seat Strap System (S3). This unique design feature allows the pillow to attach securely to the airplane seat, preventing it from slipping or sliding during use. No more waking up with your pillow on the floor or constantly readjusting for the perfect fit. The S3 ensures that your comfort stays put, allowing you to sleep soundly without interruption.
---
Noise-Canceling Headphones
Noise-canceling headphones are the ultimate solution for escaping the distractions of the cabin and immersing yourself in your favorite tunes or serene silence. These cutting-edge wonders have become the go-to choice for travelers seeking to transform the atmosphere of their flight and create a private audio oasis.
Whether you prefer to relax with soothing melodies, binge-listen to your favorite podcasts, or simply enjoy the tranquil quietude, these headphones have got you covered.
---
The Bose QuietComfort 45 Bluetooth Wireless Noise Cancelling Headphones are the epitome of audio excellence and cutting-edge noise-canceling technology. Building upon the legacy of their highly acclaimed predecessors, the QC35 II, these headphones take the auditory experience to a whole new level, making them a top choice for discerning travelers and audiophiles.
Featuring Bose's renowned Acoustic Noise Cancelling technology, the QuietComfort 45s effortlessly block out ambient noise, immersing you in a world of pure audio bliss. Whether it's the constant drone of airplane engines, bustling crowds, or noisy conversations, these headphones ensure that your in-flight entertainment remains undisturbed, allowing you to focus solely on what you love to hear.
Designed with comfort in mind, the QuietComfort 45s are the perfect travel companion for long-haul flights. The plush, well-padded earcups and lightweight design create a snug fit, ensuring hours of wear without discomfort. Additionally, the earcups can swivel flat, making it easy to store the headphones in their compact carrying case when not in use.
---
Compression Socks
The discomfort of sitting for extended periods, combined with the risk of reduced blood circulation, can lead to tired and achy legs during and after flights. Thankfully, there's a simple yet effective solution to combat these woes: compression socks.
Designed with specialized compression technology, these socks provide graduated pressure that promotes better blood flow, reduces swelling, and enhances leg comfort while traveling.
---
The Physix Gear Sport Compression Socks effectiveness lies in their graduated compression technology. This means that the socks are tighter around the ankle and gradually decrease in pressure as they move up the leg. This design promotes better blood flow, helping to prevent swelling and fatigue during extended periods of sitting or standing.
Constructed from a blend of premium fabrics, the Physix Gear Sport Compression Socks offer a perfect balance of durability, breathability, and moisture-wicking capabilities. This ensures that your legs stay cool and dry even during the most demanding travel or workout sessions. Say goodbye to discomfort and hello to the feeling of light, supported legs.
---
Eye Masks
The bright cabin lights, ever-changing time zones, and fellow passengers' activities can disrupt our much-needed shut-eye. Fortunately, there's a simple and effective solution to create your personal sanctuary in the sky: the humble yet transformative eye mask. These unassuming sleep aids have the power to transport you into a realm of darkness, tranquility, and bliss, regardless of your surroundings.
---
The MZOO Sleep Eye Mask is the perfect companion for travelers and sleep enthusiasts seeking to create a cocoon of darkness, tranquility, and comfort during their journeys. Crafted with meticulous attention to detail, this eye mask is designed to deliver a serene sleep experience, even in the most bustling environments.
The standout feature of the MZOO Sleep Eye Mask lies in its ergonomic design, which contours to the unique shape of your face, providing a snug and comfortable fit. The eye mask is thoughtfully crafted with memory foam and soft materials, ensuring that it remains gentle on your skin while blocking out every trace of light.
Beyond its light-blocking prowess, the MZOO Sleep Eye Mask also addresses another common traveler's woe—pressure on the eyes. The unique 3D design of the eye cups ensures that your eyelids and lashes have ample room to move, allowing for uninterrupted REM sleep without any pressure or discomfort.
---
Footrests
While it's essential to prioritize support for the upper body, we mustn't overlook the importance of keeping our lower limbs at ease as well. These items offer a simple yet effective way to elevate your feet and legs, promoting better blood circulation and reducing strain caused by prolonged sitting.
---
The Sunany Inflatable Foot Rest Pillow is the perfect travel companion for anyone seeking enhanced leg and lower back comfort during long flights. The standout feature of the Sunany Inflatable Foot Rest Pillow lies in its ingenious design. Made from high-quality PVC flocking material, this footrest pillow is not only soft and comfortable but also durable and resistant to wear and tear. It easily inflates in just a few breaths, allowing you to set it up in seconds without the need for any additional tools or equipment.
Perfectly sized to fit the cramped space of an airplane seat, the Sunany footrest pillow offers ample support for your legs and feet. The adjustable height feature allows you to customize the footrest's elevation according to your preference, ensuring a personalized and ergonomic fit. Plus, the anti-slip bottom ensures that the footrest stays securely in place, preventing any accidental slipping or shifting during your flight.
The Airplane Footrest features an innovative foot hammock design. Made from premium-quality memory foam and breathable fabric, this footrest ensures a plush and supportive resting place for your legs and feet. Its ergonomic construction gently cradles your lower limbs, promoting better blood circulation and reducing leg fatigue during extended travel.
Setting up the Airplane Footrest is a breeze. Simply hang it on the arms of the tray table in front of you, and you're ready to experience the luxury of leg elevation.
Adjustability is another key feature of the Airplane Footrest. The adjustable straps allow you to set the height of the foot hammock according to your preference, providing a customized fit for your legs. Additionally, the straps are sturdy and reliable, ensuring that the footrest stays in place throughout your flight.
---
Travel Blankets
Say farewell to chilly cabin temperatures and restless attempts to find warmth during your journey. Embrace the luxury of cocooning yourself in the soft embrace of a travel blanket, allowing you to relax and unwind in comfort. From soft and plush fleece to compact and lightweight options, blankets come in a variety of styles and features to cater to every wanderer's preferences.
---
The EverSnug Travel Blanket and Pillow is crafted from high-quality microfleece, this blanket provides a warm and velvety touch, enveloping you in a cocoon of comfort during long flights or road trips. Its generous size offers full-body coverage, allowing you to stay snug and relaxed no matter the ambient temperature.
What sets the EverSnug Travel Blanket apart is its innovative design that seamlessly transforms into a travel pillow. With its unique snap buttons and straps, you can easily fold and compress the blanket into a pillow shape, providing optimal neck and head support for a restful nap or peaceful slumber during your journey.
Both the blanket and pillow come with a convenient carrying case, making it easy to pack and stow away when not in use. The compact design ensures that the EverSnug Travel Blanket and Pillow set takes up minimal space in your carry-on luggage, backpack, or travel bag.
---
Ear Plugs
In this section, we delve into the realm of travel earplugs, specifically designed to alleviate ear pressure and discomfort during flights.
EarPlanes Ear Plugs are specially engineered to alleviate ear pressure and discomfort caused by changes in cabin air pressure during take-off and landing. Each pack includes one pair of EarPlanes, making them convenient and easy to carry on all your adventures.
The patented CeramX™ filter technology regulates air pressure in the ears, allowing them to adjust gradually to changes in altitude. By equalizing the pressure between the outside environment and the middle ear, these earplugs prevent the sensation of clogged or blocked ears, often experienced during air travel.
Made from soft and hypoallergenic materials, EarPlanes Ear Plugs ensure a comfortable and secure fit. Their discreet and low-profile design allows you to wear them throughout your flight without drawing unnecessary attention.
---
Motion Sickness Relief
Motion sickness relief tablets are a remarkable solution for alleviating discomfort during various modes of travel. Whether you're sailing the seas, taking a winding road trip, or experiencing turbulence during flights, these chewable tablets are an effective antihistamine that tackles symptoms like nausea, dizziness, and vomiting.
---
Bonine Non-Drowsy Motion Sickness Relief chewable tablets offer effective relief from the discomfort of motion sickness without causing drowsiness. Each tablet contains 25mg of Meclizine HCL, a trusted antihistamine that helps prevent and alleviate symptoms like nausea, dizziness, and vomiting associated with motion sickness.
Taken just one hour before travel, these chewable tablets provide up to 24 hours of non-drowsy relief, allowing you to fully enjoy your journey without feeling sleepy or fatigued.
The chewable form makes Bonine easy to take without the need for water, making it a convenient solution for travelers on the go. With their pleasant raspberry flavor, these tablets are a welcome alternative for those who find swallowing pills challenging.
---
Traveling can often be challenging, with long hours spent in cramped spaces and changing time zones disrupting our routines. However, with the right travel gear, the journey becomes a more comforting and rejuvenating experience. The best products for making flying more comfortable are readily available on Amazon, ready to accompany you on your next voyage.