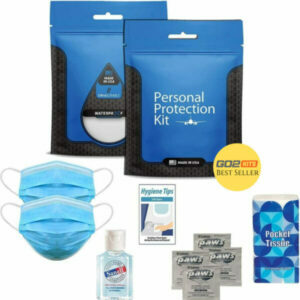 Go2Kits All-In-One Personal Protection Kit To Go
Travel safely with Go2Kits All-in-One Personal Protection Kit!
It is essential to carry personal protection items every time you fly or are in crowded areas. Purchasing all of the necessary items to keep you safe can get expensive and you might forget an item or run out of items. The best option is to purchase an all-in-one kit to ensure that you have all the items you need, all the time. The Personal Protection Kit by Go2Kits is exactly what you need! Each kit contains 2 disposable 3-ply face coverings, 4 disinfectant cleansing wipes, a half-ounce bottle of hand sanitizer, a pack of soft tissues and a mini booklet with hygiene tips. All items are kept in high-quality resealable packaging, allowing you to store the kits wherever you need them for quick access. 5 kits are included with the Amazon purchase. These kits are well worth the investment than the alternative of purchasing all the items separately.
Check these kits out and purchase on Amazon HERE!